Festival Singing Our Place 2019
 - International Women`s Performing Arts Festival -

              presenting women artists
     and their voices and visions for our future.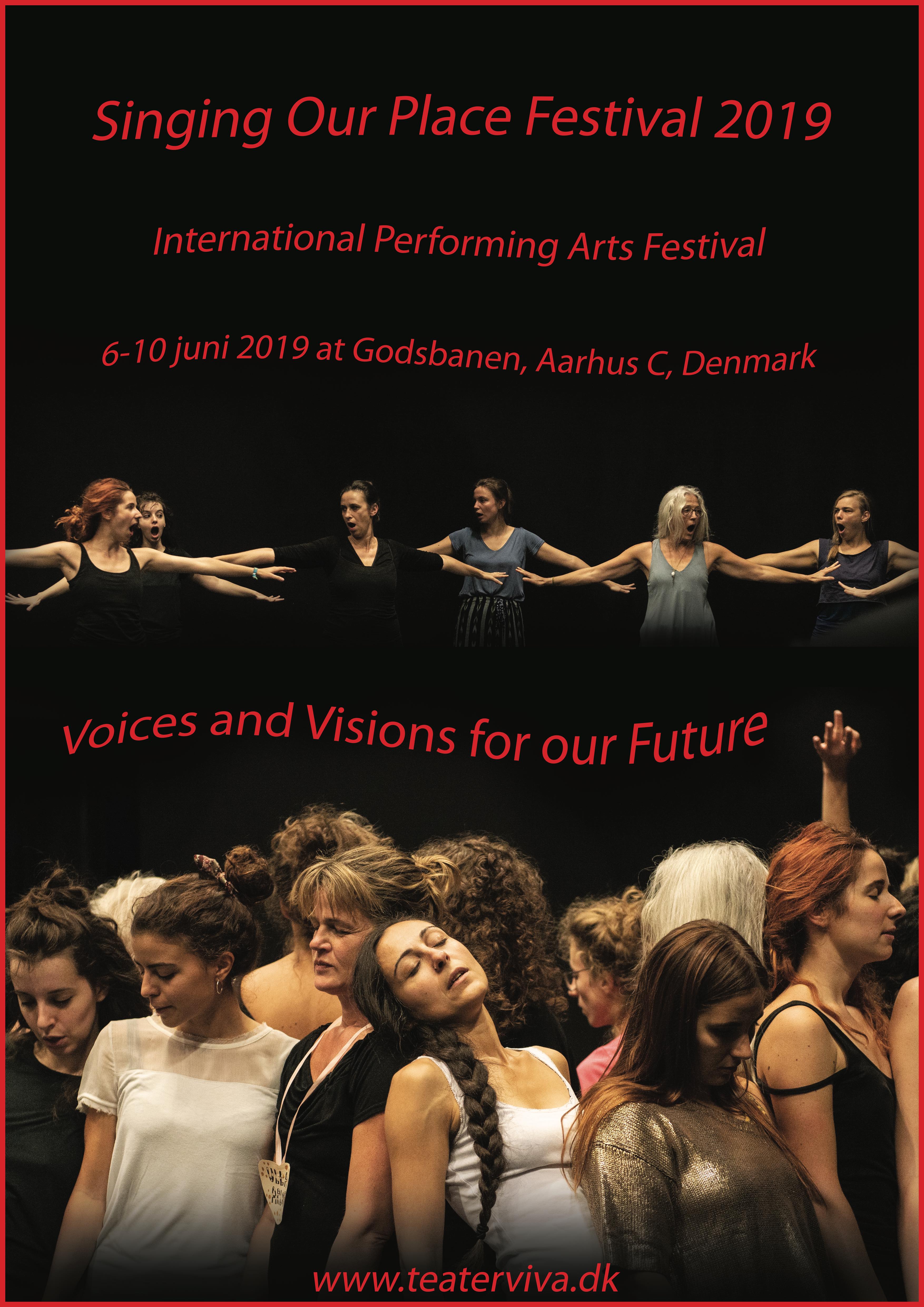 Dates: 6-10 of June 2019.
Place: Godsbanen, Aarhus C, Denmark.
Arranged by Teater Viva
and part of The Magdalena International Network for Women in Theater
and in collaboration with Transit Festival, Odin Teatret
in the project Between Two Sisters.
The festival is supported by Europæisk Kulturregion and Odin Teatret.
We are looking forward to present the amazing artists
 from Italy, Denmark, Greenland, Finland, Norway,
 England, Sweden, Spain, France and Argentina !
The festival will offer performances, concerts, workshops and talks.
 Program is coming soon.
See here under for application document to workshop laboratories.

We invite you to an hugely inspiring space for artists and audiences in all ages and all sexes.
You will meet lament singers from Finland, Butoh dance, moderne dance, video installations,
joik and electronics, rituals, performances, Arctic mask dance and drum dance in modern context,
physical theater, songs from all over the world, theater and storytelling.
We live in times that call for our voices and engagements.
Come and share your voice and visions in a meeting with international women artists
with engaging and surprising stories, voices and visions for our common future.
We have invited so far:
Grand Mother of lament singing Pirkkho Filhman and her group, Finland,
dancer and choreographer Kitt Johnson X- Act
DK, actress and activist Julia Varley Odin Teatret, DK/ UK , director and actress Jill Greenhalgh UK,
actress and mask dancer Varste Mathæussen, Greenland, composer Line Tjørnhøj, DK ,
singer, composer and drum dancer Varna Marianne Nielsen Greenland,  actress Ana Wolf, Argentina,
performer and storyteller Xanthe Gresham UK,singer and composer Ruth Wilhelmine Meyer Norway,
singer, performer and composer JomiMassage Signe Wille Jørgensen DK,
singers Voix Polyphoniques, Brigitte Cirla og Eleonore Bovon, France, butoh dancer Maruska Ronchi, Italy,
singers and composers Avant Joik, Maja Ratkje, Norway and Katarina Barruk Sweden,
performer and video artist Noelia Mora Solvez, Spain/DK , the singers in Nevasta Voice DK/G,
sejd and shamanistic singer and dancer Elisabeth Groot, DK.
We have also invited 14 women theater leaders and makers from Aarhus to share their visions
with us at the symposium on the last day of the festival.
Dates: 6-10 June 2019. Place: Godsbanen, Aarhus C, Denmark.
There will be 5 days with 14 performances and concerts, a symposium, 4 explorative workshop laboratories
and 4 showings of work in progress performances and a huge ending Ritual Party the last evening.
During the festival days we will invite you into 4 explorative artistic laboratories
inviting you to through artistic work explore your voices and visions for the future.
We have set exciting different artists to lead the 4 laboratories together:
Laboratory 1: Rituals and Compositions for The Future.                 

Inspirators: Line Tjørnhøj og Signe H. Wille-Jørgensen. DK
Laboratory 2: Daughter, Mother, Connections in Past and Future.
Inspirator : Jill Greenhalgh (UK)
Laboratory 3: Transformative Movements. Body, Nature and Animal.                                 
Inspirators: Maruska Ronchi (IT) og Ana Woolf (AR)
Laboratorie 4: Songs of Transition. Roots and Voices.                                                                 
Inspirators: Pirkko Fihlman (FL), Varste Mathæussen (GL) og Katrine Faber (DK).
The workshops will happen over 5 days :
( 1. day: 2 hours, 2. , 3. and 4. day: 4 hours and then presentations of work on day 5. )
In the mornings we will work all together lead by different artists for 1,5 hour.
Max 15 participants in each workshop.
You have to choose one of the workshops.
Application and prices:
Prize for partout ticket to the festival 2019
( 5 days of workshops, all 15 performances and 4 concerts, symposium and Ritual Party ) :
Standard: 3400 Dkr.
For young people ( under 25 ), students and travellers from abroad: 3000 Dkr.
Application needed for workshops ( max 50 participants  in total )
Download the application document from here:
Food ( 5 dinners and 4 lunches, vegetarian and organic , evt. Vegan) : 600 Dkr.
One day ticket ( performances and concerts ) 250 Dkr.
Single ticket per performance or concert: 110 Dkr / 60 Dkr (under 25 years )
Regarding lodging and hotels:
There are good offers at Wake Up, Aarhus and City Sleep, Aarhus.
We are also finding lodging in hospitable private houses in Aarhus C
or in the eco village in Hjortshøj : Aprox: 100 Dkr per night.
( in June 2019 there will be a train to Hjortshøj with takes 17 min from city center of Aarhus. )
Further questions: contact Denne e-mail adresse bliver beskyttet mod spambots. Du skal have JavaScript aktiveret for at vise den.