" Tales from The Trash – 
A performance about Endings, Crises and new Beginnings" 
Idea, concept, soundscapes and performance: Katrine Faber
Consultant instruction: Rolf Heim.

Video: Leung Ka-lun and Katrine Faber.
Texts: Katrine Faber, Völuspá from The Icelandic Eddas, Universal Fish Story,
and  central fragments from the discussion of the Western Civilization.
Tales From The Trash is created at long stays en remote places in Greenland and North Iceland in the winter 16/17.
The performance is developed in the meeting with people, places, stories, songs, landscapes, animals and sounds
mixed with inspiration from the very old Nordic poem Völuspá and current global themes in contemporary civilization
about crises, clima changes, future and resonanses or dissonanses between all us living creatures on Earth.
Tales from The Trash is a dramatic performance montage weawing past, present and future                
together in a innovative, wild and surprising creation.
An old woman appears from the plastic trash.
Is she a wise prophetess, a refugee from western civilisation or a mad woman ?
The Past, the Present and the Future speaks to us through her.
With references to the Angakok – the shaman in Inuit culture and the woman figure Völva in Nordic culture,
the performance makes the times meet and the song connect the worlds.
60 min duration. For people from 15 years. Up to 300 public at the time.
Language: Danish or English or Spanish or Scandinavian depending on the place for performance.
Technical rider:
Space needed: Aprox. 8 m x 8 m.
Darkened room. Light and sound and video equipment.
Setting up time: Aprox: 5 hours. Taking down: 1 hour.
Obs: We will need help to collect a lot of plastic trash before the performance
and we also need a big fresh uncutted fish in the performance.
Price: 12.000 kr exclusive moms.
The performance is supported by The Danish Arts Council.
The Danish Art Council pays 50% of the price.
 For further information: This email address is being protected from spambots. You need JavaScript enabled to view it. and 0045 5054 7024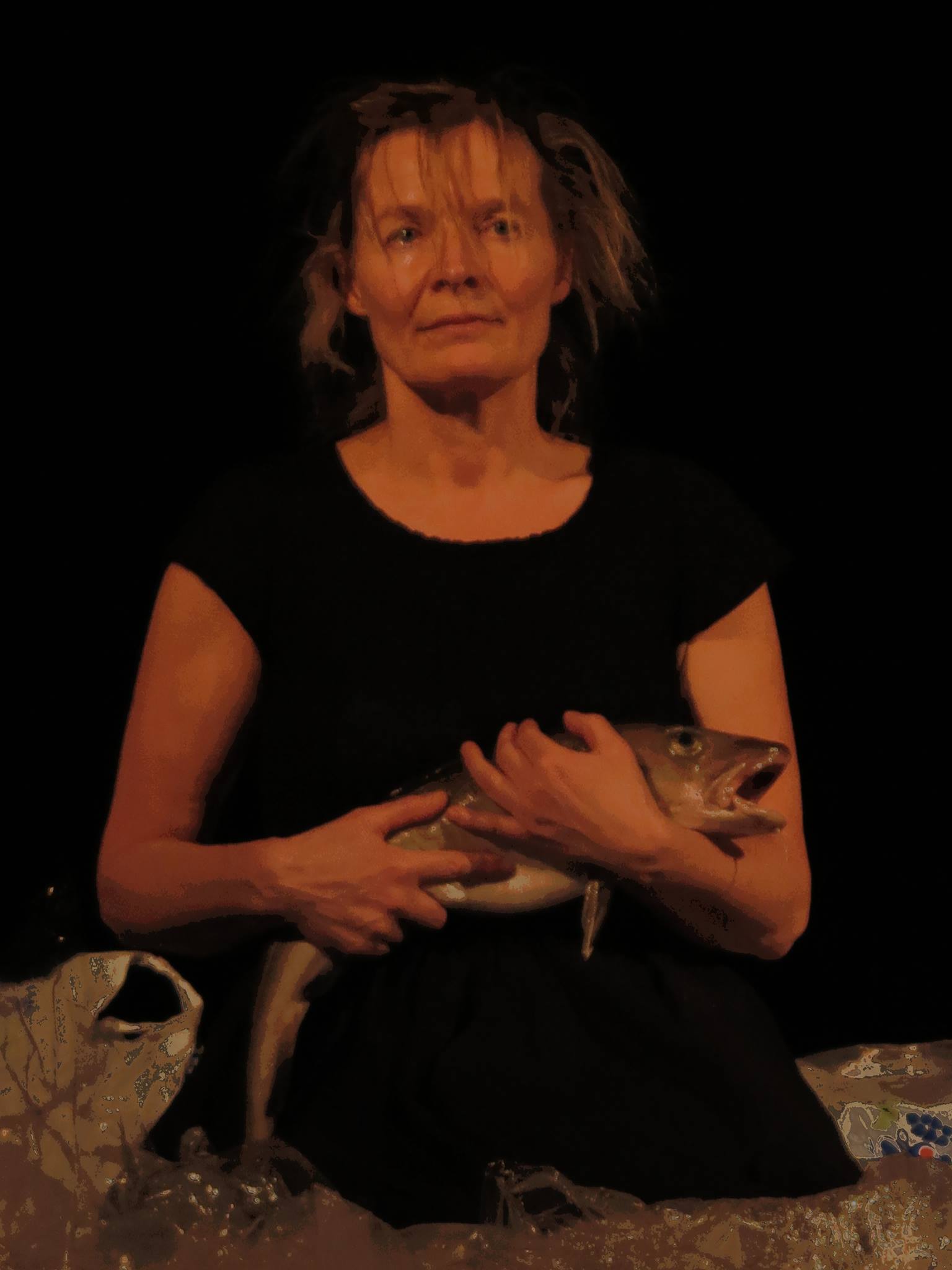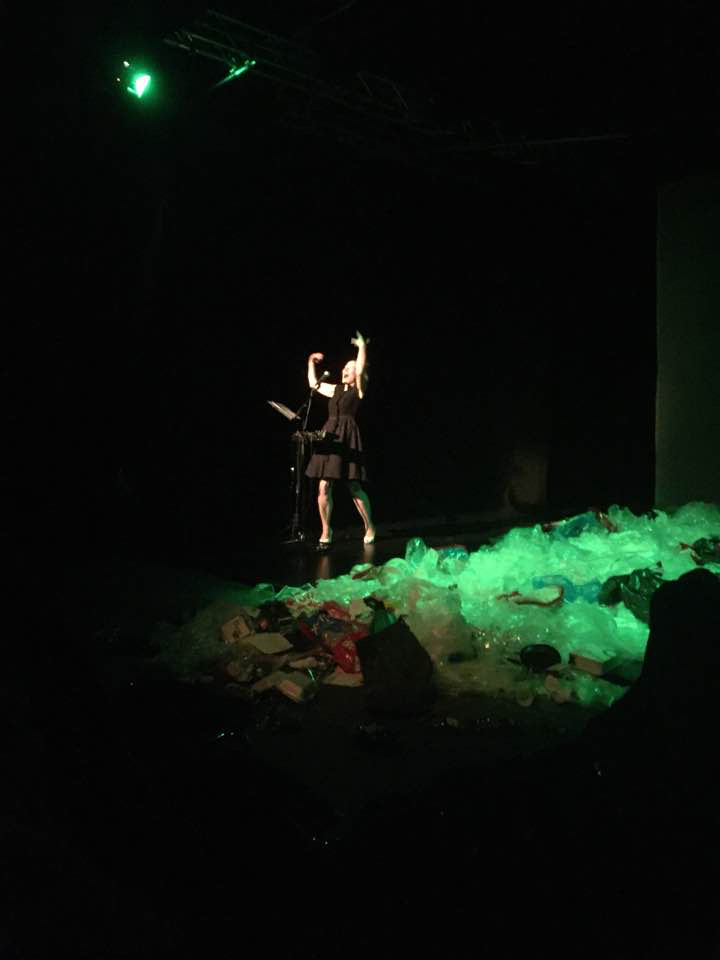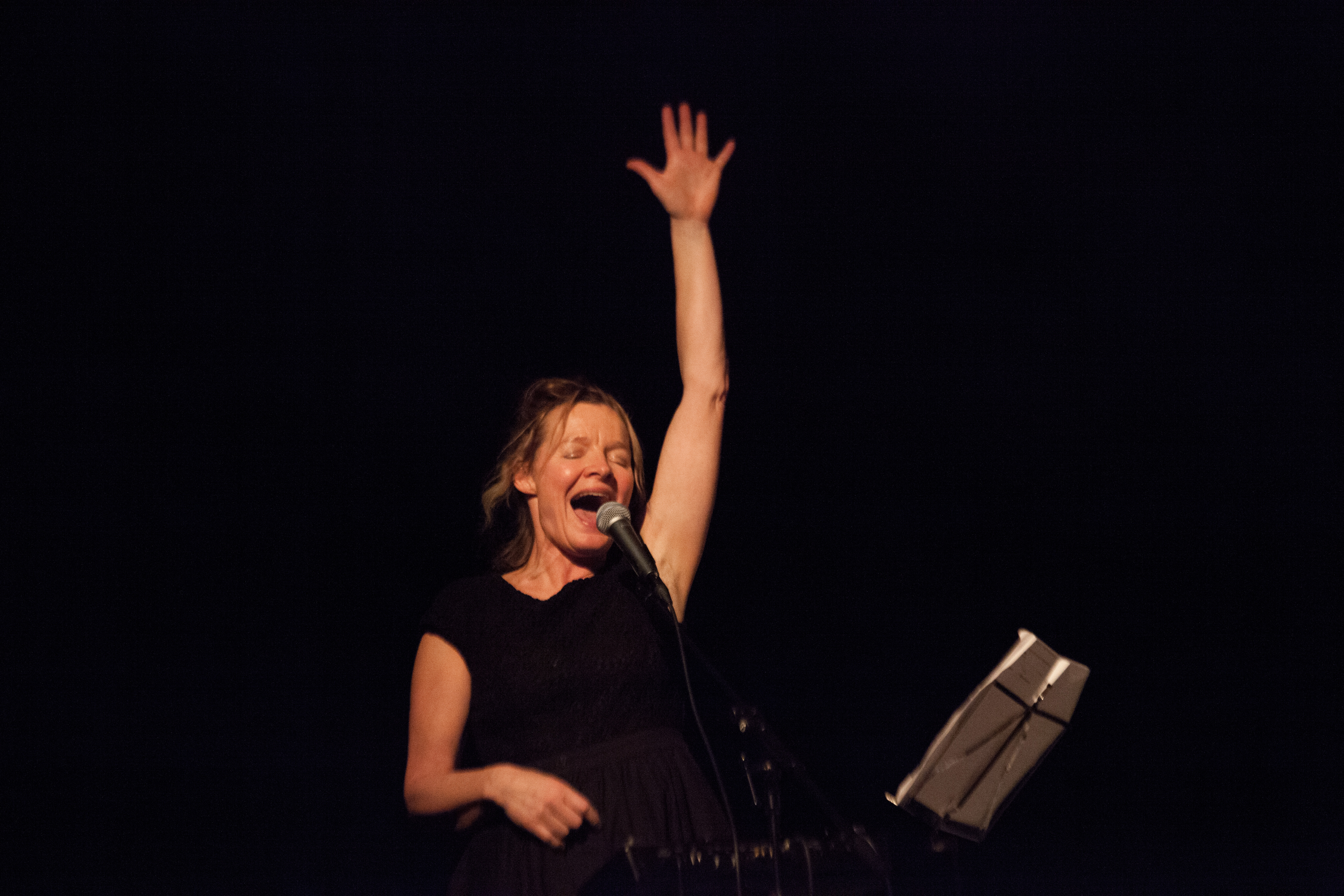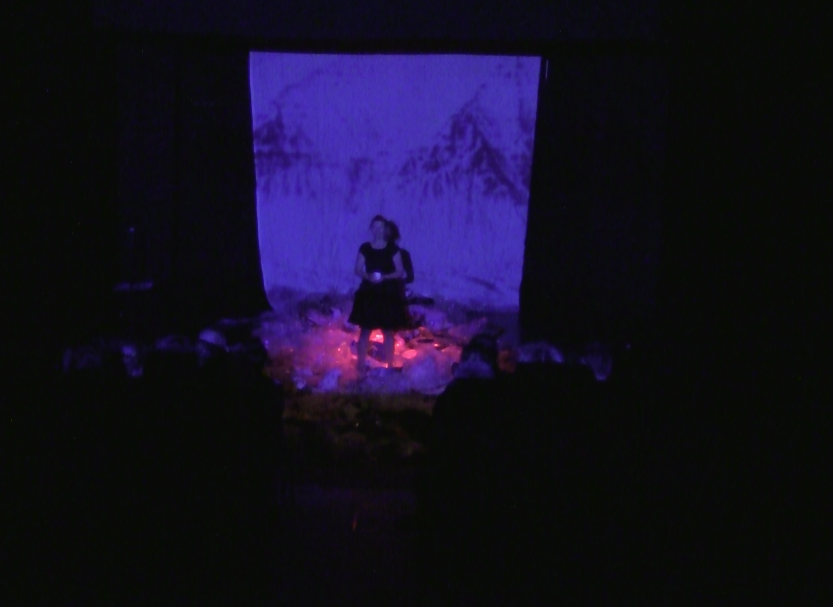 En kvinde sidder begravet i en bunke affald. 
Man kan også sige, at hun sidder begravet i den moderne civilisation. 
Hun taler til os, hun ler, hun synger, hun fabulerer, hun holder humøret højt. 
En forestilling om fremtiden, om håb, om frygt og en verden i forandring.
Tales from the Trash er en overraskende, modig og sanselig montage
med monologer, fortællinger, sange, lyde, elektroniske tracks og fysiske koreografier.
En undersøgelse af resonans mellem natur, mennesker, kroppe og
fortid, nutid og fremtid.
En kvinde i en bunke plastikaffald; en gal posekone eller en spåkvinde ?
Fortid, nutid og fremtid taler gennem hende og til os.
Med referencer til angakokken i inuit-kulturen og vølven i den nordiske kultur,
lader forestillingen tiderne mødes og sangen forbinde verdenerne.
Forestillingen er også inspireret af Glade Dage, Vølvens Spådom, Kassandra,
Havets Mor og adskillige andre sibyller i verdenshistorien.
Forestillingen er udviklet og skabt på længerevarende ophold i Grønland og Island.
Varighed: 60 min. Oplagt til samtale med og mellem publikum bagefter.
Pris: 12.000 kr exclusive moms.
Forestillingen er støttet af Statens Kunstfond og Refusionsordningen.
Det betyder at Statens Kunstfond betaler 50% af prisen
og prisen for køber dermed bliver 6000 kr + moms.
Ide, koncept og tekst: Katrine Faber
Instruktørkonsulent: Rolf Heim.
Skuespiller: Katrine Faber. Elektronisk lydflade og scenografi: Katrine Faber og Aksel Striim.
Varighed: Forestillingen spilles som teaterforestilling i en 60 min. version i en sal for et siddende publikum
men kan også slippes løs i et åbent offentligt rum i en kortere version.

Velegnet til kulturarrangementer, seminarer og konferencer,
som beskæftiger sig med klimaforandringer, natur, miljø og civilisationstemaer.
Målgruppe: Mennesker fra 15 -101 år.
Kontakt teatret for at høre prisen til dit arrangement.