Katrine Faber. La mujer de la Teater Viva.

Katrine trabja como actriz, cuentista, cantante, interprete, dramaturga, artista de installacion
y instructor y professora de Voz, teatro y cuentacuntos.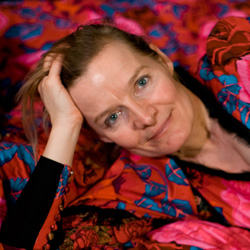 Katrine Faber is an actress, singer, voice performer, composer, storyteller and artistic director of Teater Viva in Denmark. She is educated as an actress at Istituto Di Arte Scenica in Italy. She is educated as a singer and voice teacher at The Roy Hart Center in France and at Nadine George`s Voice Studio International  in England. In addition, she is an educated psychotherapist specializing in voice, body and mythology. Faber has done a year-long exploration of the human voice; song, sound, narrative and resonance as a way to connect with the world and our selves. She composes music for her performances, installations and concerts. She researches and explores the possibilities of the human voice. She writes texts and stories for her performances and works with staging her own solo performances and ensemble performances. She has travelled and exchanged songs, ways of singing and stories in Mexico, Nepal, Spain, Tuva, Uzbekistan, Greenland, Iceland and Scandinavia.
Recently Faber works with Singing Our Place: a Nordic cross art project about humans, nature and our common future. The theme is connections or disconnections between humans and nature (outside and within ourselves); searching for the mythic, the colloquial, the personal and the universal aspect. In Singing Our Place Faber works with the human voice in solo performances, sound installations, concerts and community plays.